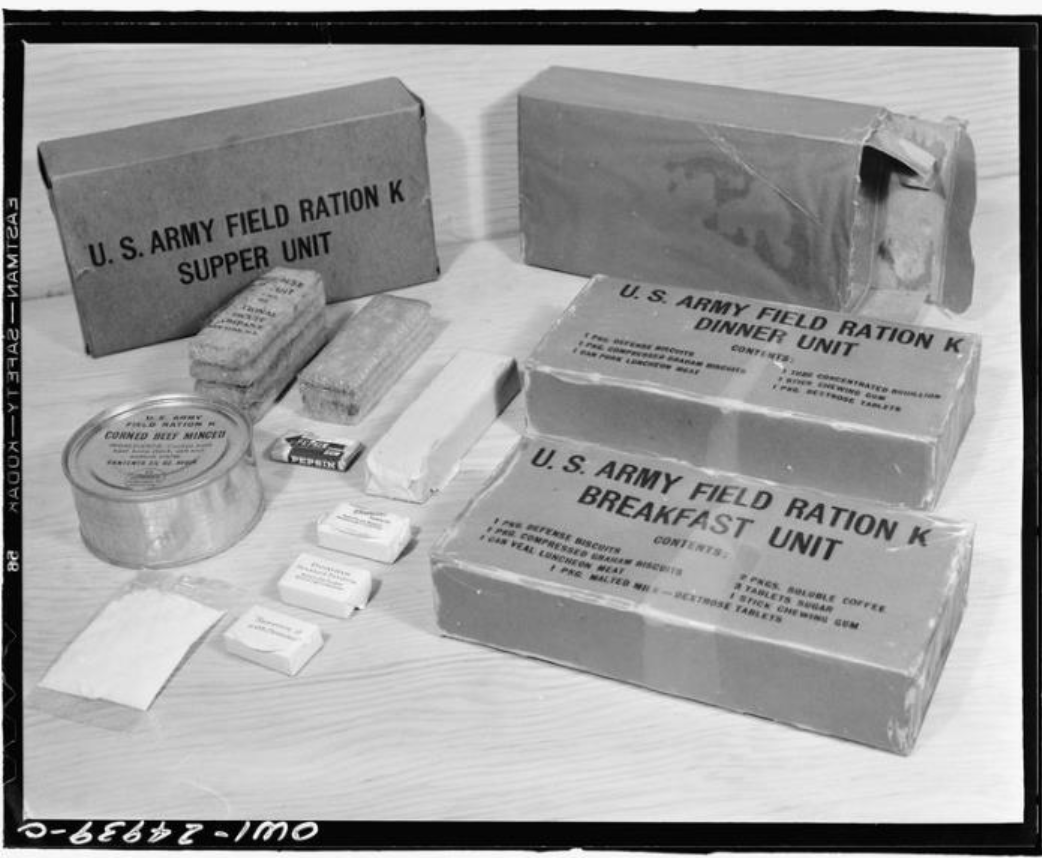 WW1 Lessons:
From July 1917 to November 1918, a U.S. soldier ate 1 pound of beef per day (meat of 10 hamburgers).

 

It is equal to an entire cow.
Meat is considered as excellent for the troops.
Logistics problems:

Transportation: German submarine threats
Storing: moisture, bacteria
»  During World War II, the U.S. military recognized that to be ideal, the ration would have to meet four standards: 
»  Nutritional adequacy, 
»  Stability, 
»  Utility, 
»  Acceptability.
»  In the 1950s, the U.S military spearheaded the invention of restructured meat, extended-life bread, instant coffee, and much more.
»  The U.S. Army investigates how to make soldiers' rations taste good and last longer. 
»  Its initiatives have led to the processed cheese that's now found in Goldfish Crackers and Cheetos, and also behind longer-lasting loaves of bread.
»  Nutritional goals: 
»  Concentration of the energy (calories) in smaller volume and reduced weight with three rations of 1,200 calories per day: 3,600 calories per soldier.
»  Average daily consumption for an adult: 2,000 calories per day.
»  Many of the foods that we chow down on every day were invented not for us, but for soldiers.
»  Do you need all these calories?
Energy bars, cereal bars, canned goods, deli meats

— all have military origins. Same goes for

ready-to-eat guacamole, cold-pasteurized juices, Graham crackers, M&M's, Cheez-It, instant soups

and

no preservative salad dressings.

Many of the

packaged, processed foods

we find in today's supermarkets started out as science

experiments in an Army laboratory.

 

The

foodstuffs

themselves, or the

processes

that went into making them, were originally intended to

serve as combat rations for soldiers out in the battlefield

.
The United States Army Soldier Systems Center (SSC) is a military research complex and installation in Natick, Massachusetts charged by the U.S. Department of Defense with the research and development (including fielding and sustainment) of food, clothing, shelters, airdrop systems, and other servicemember support items for the U.S. military.

 
A typical Grocery Store
You can see why people say "shop the perimeter."

 

Fruit, vegetables, meat and eggs are all around the outside.

 

Processed, dehydrated, and military foods inside.